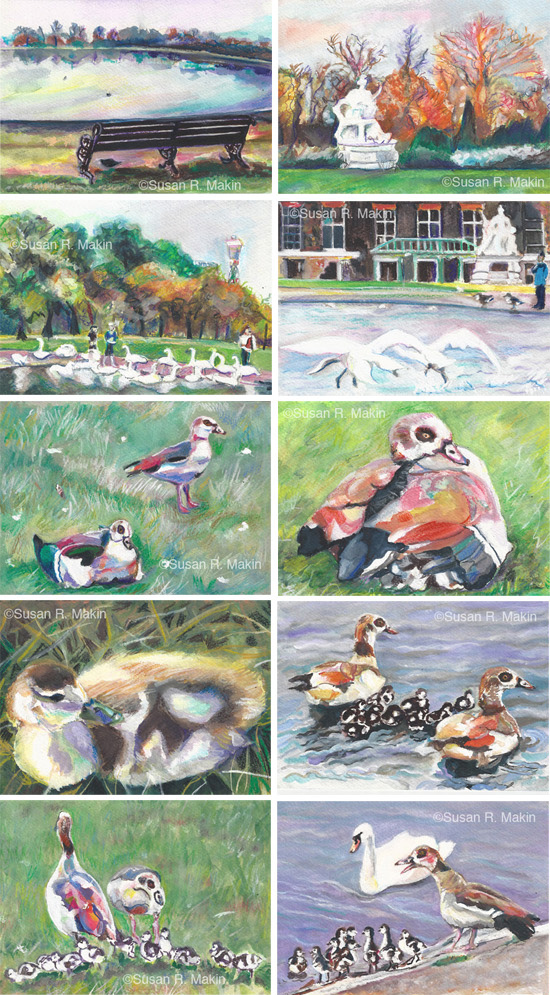 Kensington Gardens Round Pound Series-Part 3: Celebrating the Round Pond, Kensington Gardens, the first 10 of 20 x (5 x 7 in), mixed media on paper, 2014
Home
Creativity and Connection
(Doc)Susan has a passion, sensitivity, and gift for inspiring others. She believes that cheerful attitude and surroundings prompt better communication and connection, confidence and coping skills enhanced. Her whimsical artwork brings smiles, comfort, and healing.
Featured Artwork (to right)
10 from a series of 20 mixed media illustrations that celebrate restoration of Kensington Gardens' historic Round Pond. Susan's "snapshot" depictions bring out the best in subject matter with her three-stage process: painting first, naming second, story-telling third. Images from left to right /top to bottom: (1) The Bench, (2) Victoria, (3) Oasis and Tower, (4) Fly-In, (5) Waiting and Watching, (6) A Mother Goose, (7) Camouflaged, (8) Parenting, (9) Listening and Learning, (10) Look Out. These images grace the DocSusan home page as they depict their creator's (and many others') "happy place."
Art Aid
Artist donor via The Art Connection, Boston since 2006, Susan's artwork has been selected by, and adorns, dozens of Greater Boston non-profit facilities.
Licensed Artwork
Susan's artwork translates well to everyday and special gift items, information and links at Shop & Services.
Art Matters
Stay tuned for Susan's repurposing/repositioning mixed media project, on schedule for later 2016.
Words Matter
For application letters, dating profiles, business plans, complaint letters, thank-you notes, homework assignments and more, Susan helps make easy what could be difficult to craft. Information and links at Shop & Services.