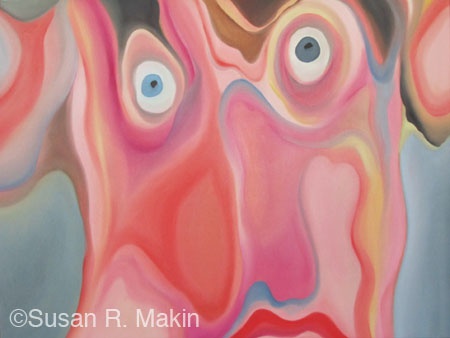 I started this piece after seeing a face in the grain of the wood. Initially I began by painting what I thought was my brother, a follow-on from the last work completed in the My Blue World series. As the painting got further along, I suddenly saw my father in it too. The brush strokes became softer and more sympathetic. Pity appeared as well as angst. My brother's conduct has been scary to me. My father has made me scared through his aging and illnesses.
Viewers of this piece in my studio say they "get it." It speaks to them in powerful ways. Everyone has someone in their life who causes them SCARE, family member or not. Should we feel sorry for the scary one, or should we feel sorry for ourselves? What does feeling scared do to you, and what does it do to others? What happens when fear and feared come face to face?
This was a one session piece (unusual for me), painted on a very long Saturday morning. I felt horrible when I started painting, but much better once finished.