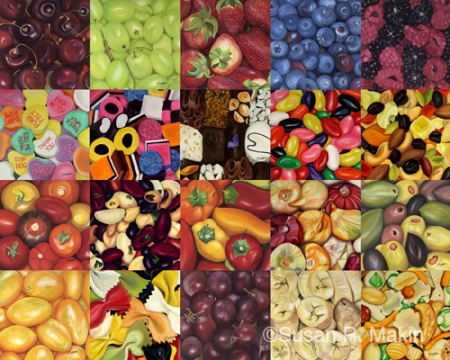 This body of work was created especially for the 2007 Florence Biennale. Built around a representational theme and message, it's about getting back to basics. My artwork captures the fun side of food—something positive," even in societies that are overweight and diet crazy. All images are from life and depict edibles that should be familiar internationally. The book, More Than Just A Meal: The Art of Eating Disorders, (2000), shows my serious long-term commitment to promoting healthier life-styles, especially where food is concerned.
Un Collage di 20 Immagini Ognuna 60 x 60 cm, olio su tela (244 x 305 cm)
Susan ha creato questo corpo di opere specificamente per la sesta edizione della Biennale dell' Arte Contemporanea di Firenze. Le opere rappresentano un tema e un messaggio principale: ritornano alle cose di base e fondamentale. Promuovono il "cibo" come una cosa divertente, qualcosa di "positivo" in una societá che da' tanta importanza al sovrappeso e alla dieta. Tutte le opere sono estratte dalla vita quotidiana e contengono immagini di cibi che dovrebbero essere riconosciuti internazionalmente. Il libro, Più Di Un Pasto: L'Arte dei Disordini Alimentari, (2000), dimostra il mio costante impegno nel promuovere un modo di vivere più sano, soprattutto nel rispetto dell'alimentazione.